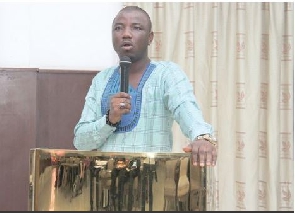 Dr. Alidu Seidu of the Political Science Department at the University of Ghana has called for reforms in the voting system in Parliament pushing for electronic voting to be introduced.
He holds that doing so will serve the twin purpose of helping to keep track of how Members of Parliament vote on particular issues which pattern could be probed later for different reasons.

Dr. Seidu advanced further that the vote in the case of a secret ballot should be stored electronically in a remote server but that same should be declassified at a later date.

"Moving forward there is the need to have an electronic voting system, so that when the MPs are going to vote, they'll call their names and they'll vote, which is stored remotely and not displayed at that material moment until when the need arises for people to look at it, then it is produced. That'd be good.

"In other jurisdictions, we can tell the track record of MPs, including Congressmen and how they vote and on what issues. And so, it becomes even a campaign message for them," he explained on the PM Express programme on Joy News (March 27).

He stressed that for the MPs, such a record becomes a basis on which they can make a case to their constituents during elections, because they can say they are a champion on so and so issue.
Other guests on the show were lawmakers Kofi Adams (NDC, Buem) and Ibrahim Murtala Mohammed (NDC, Tamale Central).

Adams in addressing the issue of vote reforms said: "Even if (the vote is) not public, we should put a system in place so that how each member votes on any issue would be recorded. So that when there is a need to enquire into it, we can enquire into it."

Murtala also agreed with the suggestion and asserted that doing so with the view to later declassifying will mean that MPs who want to vote against their party whip will reconsider their actions.

The NDC has recently been hit by a vote rebellion in which its MPs voted to approve eight nominees of president Nana Addo Dankwa Akufo-Addo against express orders of the party and a three-line whip by their leadership.

The party is currently on a hunt for MPs who defied the party's orders with the view to punishing them.