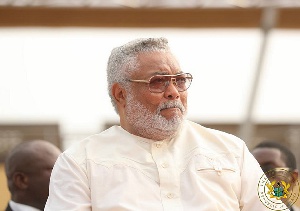 Former President Jerry John Rawlings has said the National Democratic Congress (NDC) will remain in opposition for long if the motive of winning political power is to release prisoners.
"If the quest for political power is to release wrongdoers from prison, then the NDC is laying its own foundation to remain in opposition for a long long time," Mr Rawlings said in a Tweet on Monday, 26 February 2016.

Member of Parliament for (MP) Odododiodoo, Edwin Nii Lante Vanderpuye's is reported to have made claims that the NDC would win the 2020 general elections so it can release jailed Former GYEEDA boss Abuga Pele, who is serving a six- year jail term for willfully causing financial loss to the state.

According to Mr Rawlings "This kind of talk belongs to a handful of people in the NDC leadership who have gained power and influence they do not deserve and the sooner they are packed off the better for the NDC and this country".
For him "stealing and corruption puts no one above the law. Those who have committed crimes deserve to be punished."

Attached is the full statement.