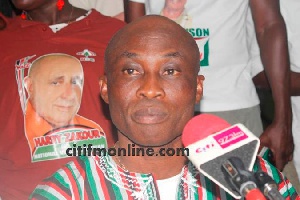 The governing National Democratic Congress (NDC) and the main opposition New Patriotic Party (NPP) shared the top spot in the foul language league table for September, the Media Foundation for West Africa has said, with the NDC's George Lawson emerging as the politician who used the most indecent language during the period under review.
In its latest language monitoring report, the MFWA said a total of 14 incidents of indecent expressions were recorded on a total of 1,906 radio programmes monitored on 60 radio stations across the country.

Officials, supporters and affiliates of the NDC and the NPP were the most culpable in the use of indecent expressions on radio during the month of September, the report said.

The two parties were each cited for the use of five (5) indecent expressions. Officials, supporters and affiliates of the National Democratic Party (NDP) followed with two incidents of indecent expressions while the Ghana Freedom Party (GFP) recorded one (1) incident.
Overall, Mr Lawson, Deputy General Secretary of the NDC was cited for the highest number of abusive comments.

He was cited for four different incidents of indecent expressions.

Six out of the 60 stations monitored recorded the 14 incidents of indecent expressions. Accra-based Happy FM topped the pack with 6 out of the 14 indecent expressions recorded. Okay FM, also an Accra-based radio station followed with 4 recorded incidents.