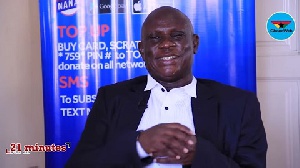 Deputy General Secretary of the ruling New Patriotic Party [NPP], Nana Obiri Boahen says irrespective of his position in the ruling party – he has some respect for the opposition National Democratic Congress [NDC].
According to him, he will not hesitate to tell them the "bitter truth" when the need arises.

"I respect NDC as a party, I will not insult them, but I don't fear them," he said in an interview with NEAT FM's morning show 'Ghana Montie'.

Nana Obiri Boahen was discussing NDC's latest 'Moment of truth' press conference to highlight some mischance in President Akufo-Addo's fight against illegal mining locally known as Galamsey.
He lauded the approach which he indicated will keep the NDC active in opposition but will not win them power in the 2020 election.

To him, their 'Moment of Truth' series should rather be rechristened 'Moment of Lies'.