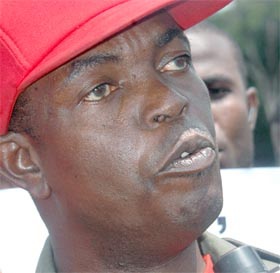 Tue, 5 Oct 2010 Source: peacefmonline
The Managing Editor of the Insight Newspaper, has warned the ruling NDC that should they go by recommendations of the International Monetary Fund (IMF) and impose further taxes on petroleum products in order to generate more revenue to complete their projects and programs, they will have to bring in IMF officials to vote for them in the 2012 elections, since Ghanaians will never forgive the NDC.
Kwesi Pratt Jnr is of the firm belief that the IMF and World Bank, instead of playing their role development partners rather seem to be a curse on Ghana.

The International Monetary Fund has recommended the imposition of more taxes on petroleum products in order to generate more revenue so the NDC government can complete its projects and programs.

The IMF claims managers of the economy had made a good start in 2009 and 2010 with strategies to strengthen revenue administration and modernize public finance management. But they say that continued effort was important to reduce fiscal deficits, pointing to the petroleum and the entire energy sector as one of the areas that the government must ensure full cost recovery.

The IMF Mission Chief for Ghana, Mr. Peter Allum, told the Graphic Business that the energy sector should be taxed to recover cost fully, and other public expenditure management should be strengthened to ensure that there were more revenue inflows so that the implementation of policies such as the Single Spine Pay Policy (SSPP), does not add more to budget deficits.
But contributing to a panel discussion on PeaceFM's "Kokrokoo" programme, the die-hard socialist said, if these financial institutions are so much interested in Ghana's development, as they posit, they would not attach unreasonable conditions to loans they give to the country.

He described the Bretton Woods institutions as hypocrites who shift allegiances from government to government, adding that their "(financial) suggestions are mostly for their own selfish gains".

"When ex-president Rawlings was handing over to the Kufuor administration, they went to President Kufuor to tell him ex-President Rawlings had misused state funds….and just after Kufuor handed over to President Mills, they went back to him (Mills) and made the same allegations about the Kufuor administration," he fumed.
Source: peacefmonline