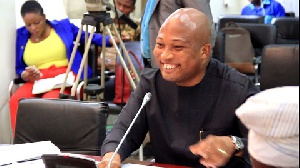 Mr Samuel Okudzeto Ablakwa, Member of Parliament for North Tongu has said the National Democratic Congress (NDC) maintains its footing in the Oti Region and it is getting stronger.
He said the NDC championed the development of Oti, and that merely creating a region was not an end to the woes of the people.

"The people are not just looking for a region in the name of it... they are looking for jobs, schools, roads etc. NDC is a Party that has shown a solid track record… We have a superior track record than the NPP ... the Party knows how to bring progress", Mr Ablakwa stated.

He was speaking to the media on the side-lines of the NDC's Special Volta Regional Delegates Conference to elect executives to fill vacant positions as a result of the creation of Oti region.

"Governments had created districts and regions and still lost elections there. It's about your blueprint for development, not just creating regions", he said, adding that the NPP had only paid "lip service" with no project undertaken since the creation of the Region.
The North Tongu MP said the Mahama administration had furnished the Oti region with community day schools, undertaken "massive" electrification, and placed roads there under cocoa roads.

He said the NDC also made inroads into the region by securing almost all parliamentary seats, and was "very confident" in its strategy to ensure that Volta and Oti remained loyal to the Party.

Mr Benjamin Kpodo, Member of Parliament for Ho Central Constituency also said NDC dominated the Oti region and that there existed no threat to the Party in Oti.

"Whether it is Oti or Volta, given the circumstances of today, that seat would be taken back", he added.