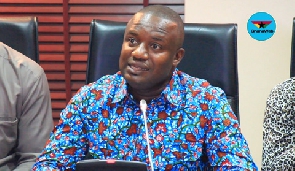 The Minority National Democratic Congress (NDC) in Parliament has torn into shreds the renegotiated Africa and Middle East Resources Investment Group LLC (AMERI) deal by the current New Patriotic Party (NPP) government saying the government is ripping off the nation to the tune of about $800 million.
According to the Minority, the NPP in opposition heavily criticized the NDC government for brokering the AMERI deal at the cost of $510 which was to run for five years; the NPP said the deal had been inflated by $150 million.

It said the NPP government has now renegotiated the same deal at the cost of $1.1 billion with an inflation of about $800 million from its original calculation.

A member of the finance committee and a former deputy minister of energy under whose tenure the agreement was reached, John Abdulai Jinapor, who made the revelation at a press conference by the Minority in Parliament yesterday, said that the renegotiated deal by this government was complete rip-off and an attempt at 'rent-seeking' by some persons in government.

According to the former deputy minister who is also the MP for Yapei/Kawsugu, the attempt by President Akufo-Addo and his government to introduce a third party, Mytilineos International Trading Company, to assume ownership of the power plant at a proposed capacity charge of 3.8052 US Cents/KWh for an extended 15-year period is very scandalous, to say the least.



He said this is so because the government would have taken complete ownership of the power plants in just two and half years' time with the current agreement by the previous administration.
The Minority stated: "A careful financial analysis of the agreement as it stands now shows that it offers an overly generous Rate of Return (RoR) of 68% as against 17.9% in the original AMERI agreement as validated by pwc in their value for money report on the original AMERI deal. This represents a 370% improvement in the financial returns to the new entity, Mytilineos".

According to them, it is even more disturbing for the government to bring the new agreement to Parliament at the tail end of the last meeting, trying to stampede it for approval under certificate of urgency.

The Minority said President Akufo-Addo must be personally held responsible for this scandal because it was the President who in a letter dated July 25, 2018, gave approval to the Minister of Energy, Boakye Agyarko, to present the agreement with Mytilineos to Parliament for approval.



The Minority said it was weighing the various legal options with reference to the 1992 Constitution to let the previous AMERI agreement run out because already there is a motion filed by the MP for Adansi/Asokwa, K.T. Hammond, for Parliament to rescind the current agreement pending before Parliament hence it is unthinkable for a new agreement to be laid before Parliament even when the motion to rescind the previous agreement had not been considered.