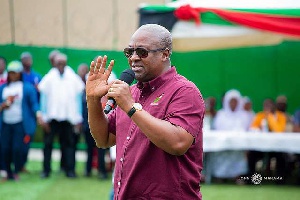 Former President John Dramani Mahama has said the opposition National Democratic Congress (NDC) will remain vigilant despite their love for peace.
In what he described as serving a notice to the ruling New Patriotic Party (NPP), Mr. Mahama said the NDC will resist the hoodlums of the NPP at the next polls with people power.

Speaking to teeming NDC supporters in the Volta Region ahead of the NDC's flagbearer primary, Mr Mahama said: "Look at what happened in Ayawaso West Wuogon, and what was pitiful was that these were armed people that our Ghana Police Service say they don't know. And yet, at Ayawaso West Wuogon, the guys were running rampage and our police service could not control them. They were rather giving orders to our people".

He added: "… The principal responsibility for security in any election in Ghana is the IGP, it's not the Invincible Forces, it's not Delta Forces.

"In any case, go and read the Constitution, the duty of the National Security Council is not to control a force, they coordinate the existing security services. They are not supposed to have hoodlums dressed in police uniforms using police vehicles and firing bullets at our innocent citizens".
"And we are serving notice: the Deputy Minister of National Security has said they were responsible for deploying them. We are serving them notice: they shall never deploy such a force in any election in Ghana again. We will resist it. You haven't seen armed people running away before. When the power of the people come after you, you will run. We are for peace, but to enjoy peace, you must be vigilant and you must be alert. We must defend our democracy. This is the 'all-die-be-die' philosophy at work. We won't accept 'all-die-be-die' in this country. And when the chiefs are advising, they should advise the ones who are unleashing violence, not me".