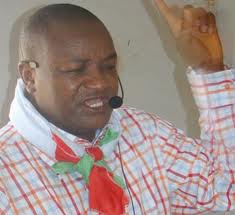 Wed, 3 Oct 2012 Source: Paa Kwasi
Hassan Ayariga, Presidential Candidate of the People's National Convention (PNC) has revealed that the erstwhile Kufuor administration duplicated the National Health Insurance scheme from his party's 2000 manifesto.

The New Patriotic Party (NPP) government under John Kufuor implemented the National Health Insurance during his second term in office- a policy which was roundly commended by the citizenry at the time.


Speaking at the maiden Youth Presidential Dialogue in Accra on Tuesday, which was organized by the Ghana Youth Forum, a Non Governmental Organization (NGO), Mr. Ayariga said the actions of the NPP at the time confirms why the PNC should be voted into office.


He added that the prevailing economic hardship requires cogent and pragmatic measures to make life bearable for the suffering masses.


While criticizing the National Democratic Congress (NDC) government for engaging in what he termed as "unproductive ventures", Mr. Ayariga promised that his administration would transform the social economic fabric to create jobs for the youth.

"I am just forty (40) years so I know and understand the plight of the youth in this country, and I promise that my administration will ensure the formulation of a national development agenda to better the lives of Ghanaians."


He said as a social democratic party, the PNC if voted into office would eschew the winner takes all syndrome and bring on board persons across the political divide to administer the affairs of the nation.


Speakers including the Presidential Candidate of the Progressive People's Party (PPP), Dr. Papa Kwesi Nduom, and Independent Presidential Candidate, Jacob Osei Yeboah, promised to initiate policies that will ensure a robust economy and better living conditions for the citizenry.


Flag bearers of the New Patriotic Party (NPP) and the ruling National Democratic Congress (NDC) failed to show up.

Source: Paa Kwasi