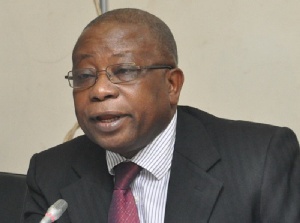 Government is preparing to inject more resources into the operational activities of National Health Insurance Scheme (NHIS) which it says it is on the verge to collapse.
"The National Health Insurance Scheme is sitting on a dangerous time bomb and needs much financial attention from government and donor partners" Minister of Health, Kwaku Agyeman-Manu revealed during the 2017 health performance summit in Kumasi.

At the stakeholders' summit, the sector minister stated "NHIS is in comatose and therefore requires finances to resuscitate it from such a condition".

Mr Agyeman-Manu stated that failure by government to pump enough resources into it activities could soon lead to total a collapse of the scheme in few months to come.

The minister also announced that despite challenges facing the ministry, government is committed to providing better healthcare delivery where there will be proper allocation of budget to the health sector.
"It is therefore anticipated that monthly releases from the Finance Ministry will be forthcoming to enable the scheme operate without challenges", he assured.

He also said government will address the challenge of human resources in the sector with continuity of giving incentives to staff who accept postings to the three northern regions and other rural communities to ensure healthcare delivery is brought to the doorsteps of every Ghanaians.

The seminar held under the theme: "Accountability in the Health Sector to Achieve the Health Related SDGs", the minister pointed out that Ghanaians are demanding health and financial accountabilities from health staff.

"Government, developing partners, customers, patients, stakeholders, civil society are all demanding accountability and we therefore have no justification to deny them accountability."