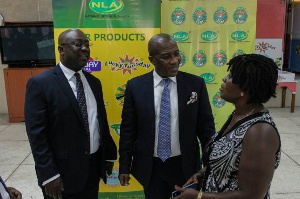 The Director-General of the National Lottery Authority (NLA), Kofi Osei-Ameyaw has dismissed reports suggesting the Authority paid whopping amount of money to members of the Finance Committee to facilitate the consideration of a supposed Lottery Law.
Speaking on Anopa Kasapa on Kasapa 102.5 FM Mr. Osei-Ameyaw said "Since I assumed office as Director-General on 13th of March, 2017 we have not forwarded any bill to the Finance Ministry for onward submission to the House for consideration let alone to pay bribes as facilitation for the supposed bill to come through."

He added: "We have not even met parliament this year to discuss the said bill. We have not made any facilitation or per-diem whatsoever in any engagement with parliament. Even when I used to be part of the 6th parliament, I can't recall receiving money from the authority as facilitation for anything."

He said the National Lottery Act, 2006 (Act 722) is still in effect and hence there hasn't been any caveat or further discussion for it to be changed or better still improved for which reason the various allegations of bribery could be linked to the matter unfolding.
For him, the allegations of the said payment is a serious matter that ought to be probed to ascertain the truth or otherwise of the bribery claim.

The Director of Public Affairs of Parliament, Kate Addo has said Members of the Committee that benefited from the pay out were in the sixth parliament that ceased to function immediately the seventh parliament came to being on January 7, 2017.

Meanwhile Former Chairman of Parliament's Finance Committee, James Klutse Avedzi, is alleged to have admitted that his committee received ?100,000 from officials of the National Lottery Authority prior to consideration of amendments of the National Lottery Act, 2006 (Act 722).