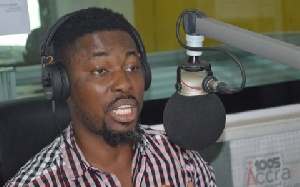 The constituency executives of the governing New Patriotic Party(NPP) in the Bantama constituency in the Ashanti region have threatened to drag Musician Kwame A Plus to court for defaming Messrs Francis Asenso-Boakye and Samuel Abu Jinapor, both deputy chiefs of staff, in a bribery claim.
A statement issued by the Executives Monday said the allegations of corruption against the two were unwarranted and a calculated attempt to tarnish the image of the two government officials.

A Plus believes that the Presidential staffers whom he accused of corruption were misled and acted on deception when they intervened in the termination of UniBank's contract to provide onsite banking services at the Korle Bu Teaching Hospital.

"…Abu, Asenso, you did not understand the issues per what Abu said on radio. I know that if you knew there is a government agency that can't independently tell how much money it makes, you wouldn't have supported this," the Musician said in a Facebook Live post.
But the Executives in their statement are bent on taking a legal fight on behalf of the two officials from the Presidency who are accused of corruption.

"We the youth of Bantama constituency writes to pour our displeasure at the unfair treatment meted out to Hon. Asenso Boakye by Kwame Obeng, aka Mr A Plus. Barely few weeks ago, Kwame A plus stated on his Facebook wall unguarded and irresponsible comment tagging Hon. Asenso-Boakye and Abu Jinapor as corrupt.

"We will want A Plus to know that Bantama is among one of the most enlightened constituencies in the country. We are well cultured, disciplined but very tough," the statement read in part.