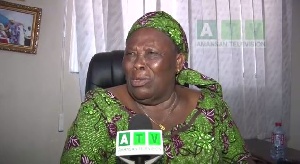 The ruling New Patriotic Party (NPP) has condemned an attack on a journalist by one of its popular supporters Hajia Fati.
The vociferous NPP supporter Hajia Fati has admitted slapping Adom FM's newscaster, Ohemaa Sakyiwaa Ahwenepa, at the party's headquarters. According to her, she assaulted the reporter because she failed to seek her consent before taking pictures of her.

"She was snapping [taking pictures of] me, I don't know her, she didn't approach me, she didn't tell me anything. I only saw a flash on my face twice, the third time, I slapped her because I didn't know who she was," she said.

However, in a statement on Tuesday, 8 May 2018, the acting General Secretary of the NPP John Boadu said the party distances itself from the act "and condemn it unreservedly."

"The party wishes to assure Ghanaian journalists that, it respects and cherishes the role of the media as partners in development and does not condone any action intended to suppress press freedom.

"No journalist should feel intimidated and must continue to discharge his/her duties without fear," the statement added.


Below is the full statement

08-05-2018

Press Release

The NPP has noted with concern an alleged attack on a journalist by one of its supporters, Hajia Fati.
We distance ourselves from the act and condemn it unreservedly.

The party wishes to assure Ghanaian journalists that, it respects and cherishes the role of the media as partners in development and does not condone any action intended to suppress press freedom.

No journalist should feel intimidated and must continue to discharge his/her duties without fear.

Though the New Patriotic Party has already begun an internal enquiry into the alleged incident, we will also cooperate with other agencies investigating same.

…Signed…
John Boadu

General Secretary (Ag)