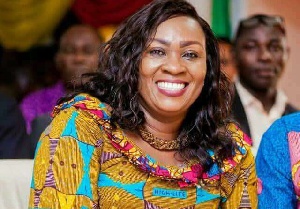 Ruling New Patriotic Party (NPP) has taken a swipe at former President John Dramani Mahama for discrediting the One Village, One Dam policy of the government.
The Minister for Special Development Initiative, Mavis Hawa Koomson, said claims by former President Mahama that the government had failed on its promise to build a dam in each village in northern Ghana was false, "because some of the dams have been completed".

She said if the former President cared to know where the dams are, he could call her on telephone for direction to their locations.

Mr Mahama had said there were no signs of the government's one village, one dam on the ground after almost two years in office.

Addressing delegates of the National Democratic Congress (NDC) at Wechiau in the Wa West constituency as part of his three-day campaign tour of the Upper West Region, Mr Mahama pointed out that, dugouts had always existed in the savanna area, with the NDC government digging many for the people.

He said during his tour of Mamprusi West as part of his Northern regional campaign tour, he saw the first experimental work of the one village and one dam, and that work could not be described as a dam.
"Before the election, I asked them, are you talking of dugouts or irrigation dams but they refused to answer. Apparently, they were thinking of dugouts", he said.

Mr Mahama said under the Ghana Social Opportunities Project, the NDC government did many of the dugouts and rehabilitated older ones to support rural farmers undertake dry season farming to improve food security in the region.

"So, it is nothing new, and the one village, one dam, really, there was nothing in it. It is one village, one dugout and even the dugouts where is it? The dugouts are not even there".

"But, that is the problem with the NPP, they believe that promise anything just to win political power. But the point is, if you over promise and you win political power and you can't deliver, then you create disappointment in the people for our democracy," he added.

But speaking to journalists at the Ministry of Information in Accra yesterday, Ms Koomson said: "If he (Mr Mahama) wants to know where the dams are, he should contact me and I'll take him there.
"When you go to Kpandai we have one there, when you go to Salaga: from Yeji you cross the river to Salaga, there is one village they call Garishagu, there is one dam there. Yendi and Yeji too.

"These are some of the towns or villages that have received their completed dams," she added.

President Nana Akufo-Addo during the 2016 election campaign, promised to build a dam in each village of the three regions of the north, via a well-planned irrigation policy.

He said a robust irrigation policy "one-village-one dam" will make Ghana crop all year round and eventually become a net exporter of most foodstuff.