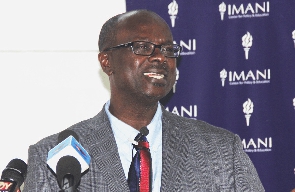 Renowned lawyer and distinguished professor of Accounting, Stephen Kwaku Asare has lashed out at the governing New Patriotic Party (NPP) for disqualifying parliamentary aspirants with "bogus, null, void and of no effect" requirements, insisting that the NPP is failing to enforce its own constitution.
Many NPP members seeking to contest in parliamentary primaries slated for April this year have had their hopes dashed after various vetting committees disqualified them based on criteria such as not having "nurtured" the party at the constituency level.

But Prof Azar, quoting from the NPP's constitution, as pointed out that the vetting committees are acting unconstitutionally by relying on requirements not spelt out in the NPP's constitution.

"The NPP Constitution, as modified by Dr. Zanetor's case, sets the following requirements for applying for nomination as a PC.

(a) a known and active Member of at least two years;

(b) a registered Member and a voter in the Constituency which he or she seeks to represent;
(c) is of good character;

(d) is of good standing;

(e) has paid the prescribed fee;

(f) qualifies under the electoral laws to be a PC for the Constituency; and

(g) has signed the "Undertaking for Parliamentary Candidates".
All other requirements, including but not limited to, nurturing, breastfeeding, and mothering the party at the constituency level are bogus, null, void and of no effect," he elaborated on Facebook.

Prof Azar put the blame of the non-enforcement of the party's constitution on the current crop of executives, arguing that the NPP's founding member and first National Chairman Bernard Jao Da Rocha would have ensured that the NPP's constitution is followed to the letter

"B. J. Da Rocha would have enforced the Constitution. But here we are," he stated.

Notable members that have been disqualified after the recent vetting include lawyer Philip Addison and many others.