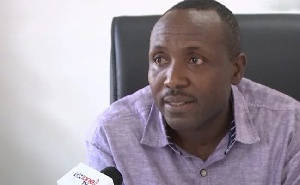 President Nana Akufo-Addo and his New Patriotic Party (NPP) will continue to do what is right even if that will cost them the 2020 elections, Mr. John Boadu, acting general secretary of the ruling party has declared.
Speaking on Peace FM's "Kokroko" Morning Show on the recent gas explosion in Accra, Mr. Boadu said the fear of losing elections has made many leaders to condone injustice and crime.

"We are fighting galamsey with all the resources we can command and we will continue to do so even if it will make us lose the 2020 elections.

"This country needs a leader who just wants to do the right things and does not care about the consequences.
"This is what President Akufo-Addo is doing," he said.

Last year, former President Mahama was vilified when he said that he didn't mind doing the right things and losing the election. He was commenting on his government's decision to redraw nurse and teacher training allowances.

His opponents described his remarks as insensitive.