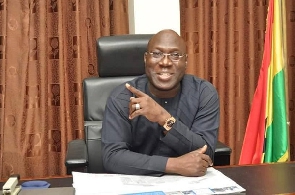 A former ranking member on the Constitutional, Legal and Parliamentary Affairs Committee of Parliament, Inusah Fuseini, has expressed his views on the New Patriotic Party's (NPP) flagbearership race, stating that the party has a large number of overly ambitious individuals seeking power.
Inusah Fuseini suggested that some aspirants lack the necessary capabilities and struggle to formulate their own ideas.

"I think that NPP has a large number of overly ambitious people. Some of them don't actually look at their capabilities. They have even difficulties formulating their own ideas," Fuseini remarked.

The NPP flagbearership race, scheduled for November 2023, has attracted 10 contenders thus far.

The nomination process began on May 26, 2023, and will end on June 24, 2023, as per the party's National Executive Committee (NEC).

Among the prominent names vying for the position are Alan John Kwadwo Kyerematen, former Minister of Trade and Industry; Dr. Owusu Afriyie Akoto, former Minister of Agriculture; and Dr. Mahamudu Bawumia, the current Vice President.
However, Fuseini believes that only two of the current aspirants are qualified for the flagbearership race.

He identified Addae Nimo and former Minister for Transport, Joe Ghartey, as the only contenders he deems suitable. Regarding the remaining candidates, Fuseini expressed concerns about their reputations.

"For the people who have picked the forms, there are only about two people who appear to be qualified; Addae Nimo and former Minister for Transport, Joe Ghartey. The others are so tainted and that is not funny," Fuseini asserted.

The NPP flagbearership race is expected to be a closely watched and highly competitive contest as the party seeks to select its candidate for the upcoming elections.

YNA/DA