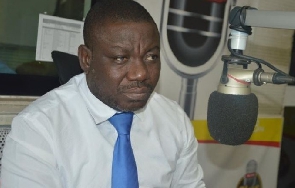 Isaac Adongo, the acting Ranking Member for the Finance Committee, has challenged Dr. Mahamudu Bawumia, the Vice President and aspiring flagbearer of the New Patriotic Party (NPP), to present a better vision for the country beyond resorting to the International Monetary Fund (IMF).
Adongo questioned Bawumia's claim of having a vision for Ghana, stating that if Bawumia truly had a vision, the country wouldn't have experienced the economic challenges it currently faces. Adongo criticized the government's reliance on the IMF, suggesting that it reflects a lack of vision and economic mismanagement.

During a press conference on June 21, Adongo expressed his anger at hearing those who he believes drove the country's economy into a state of decline now speak about having a vision.

"In the midst of this gargantuan economic mismanagement, I heard Dr. Bawumia saying he has a vision for Ghana. I'm wondering what vision he has other than what he and his boss, Nana Addo, have contracted with IMF for the good people of Ghana. What is Dr Mahamudu Bawumia going to do that he couldn't do in this government? It is annoying to hear those who drove a car in perfect condition into a ditch now talking about "vision". If they had vision,Ghana wouldn't have sunk this low in the first place," he said.

Meanwhile, last Friday, Dr. Mahamudu Bawumia submitted his presidential nomination forms at the NPP head office in Asylum Down, Accra. The event attracted a large crowd of enthusiastic supporters, marking the beginning of his campaign for the 2024 elections.

During the submission of the nomination forms, Dr. Bawumia emphasized his unwavering commitment to the party and his dedication to serving the nation. He recounted his previous roles as Deputy Governor of the Bank of Ghana and Vice President, highlighting the government's achievements in infrastructure development and transformative policies.

Dr. Bawumia expressed pride in the current administration's accomplishments and vowed to continue the process of transforming Ghana through hard work, honesty, dedication, and discipline.
As the NPP flagbearer race continues, the clash between Adongo and Bawumia sheds light on the different visions and approaches presented by the candidates, adding depth to the political discourse surrounding the party's future direction.

You can also watch this video on the impact of climate change on sea life:





YNA/SEA