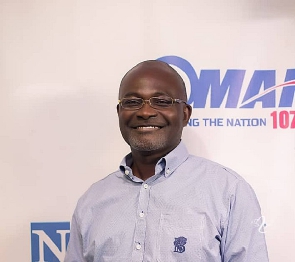 New Patriotic Party flagbearer hopeful, Kennedy Ohene Agyapong, says he has earned the right to compete in the party's upcoming contest.
According to the Assin Central MP, his track record in the NPP proves his worthiness to contest for the presidency on the ticket of the party.

Beyond this conviction, Mr Agyapong, who was responding to Dr Nyaho Nyaho-Tamakloe's comments about his commitment and dedication to the NPP, is of a strong conviction that he will win the race.

"Today I am here to share my experience and my contribution to the party and for the people to know. The Bible said in Matthew 20:26 that 'whoever wants to be a leader must first be a servant of the people.' I have served NPP, and I deserve to contest on the ticket of NPP, and I am going to win," he told Net2 TV in an interview.

Meanwhile, a special assistant to the legal team of Kennedy Agyapong, Keren Acheampong, has descended on Dr. Nyaho Nyaho-Tamakloe over his recent criticism of the New Patriotic Party flagbearer hopeful.

Keren Acheampong, in response to Dr Nyaho-Tamakloe, stated that the party's stalwart is refusing to be truthful.

"For a man of his status who started with the likes of President Akufo-Addo, Dr Wereko Brobbey and lawyer Akoto Ampaw, you would expect a man like him to exercise discretion in making such statements. The right word I can use to describe him is that he is a hypocrite. Apart from being a hypocrite, he is also ignorant.
"I am pained to be using such a word on him. But the bible classifies a hypocrite as people who will not walk the right path and also will not allow others to do so," he told Oman Channel in an interview.

Keren Acheampong noted that, contrary to Dr-Nyaho-Tamakloe's claims, the party's stalwart cannot deny the contributions of Kennedy Agyapong to the flagbearer hopeful.

"He is a hypocrite because he knows very well that Honourable Kennedy Agyapong cannot be left out if you are naming two persons in the NPP who have supported the party well," he said.

Keren Acheampong urged the public to disregard Dr. Nyaho-Tamakloe's claims, claiming that they are a deliberate attempt to discredit Kennedy Agyapong.



GA/BOG