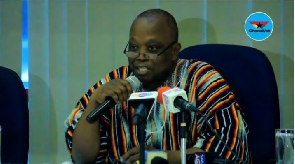 The New Patriotic Party (NPP) has condemned the National Democratic Congress (NDC) for an attempt by the NPP to undermine the policing of the Office of the Auditor-General.
"The NDC is being irresponsible with its approach to the ongoing tussle between the Auditor General and the Economic and Organised Crime Office (EOCO) over some alleged procurement breaches," it noted.

The NDC at a press conference on Monday accused the government of scheming to remove Daniel Domelevo from Office as Auditor General because he is exposing the rot in the government and stated that the party felt investigation of the Auditor General by EOCO was also because of his uncompromising stance in the fight against corruption.

"The EOCO investigation is designed as retribution against Mr Domelevo because he has been on Yaw Osafo Maafo over the latter's involvement in massive corruption scandal under which $1 million was paid to Kroll Associates, a UK company for no work done."
"Rather than hounding Mr Domelevo, we call on the president to immediately order the arrest and prosecution of Mr Osafo Maafo for the breaches of the Public Procurement Act, we demand an immediate cessation of the hostile victimisation of Mr Domelevo by the Nana Akufo-Addo-led administration government," the NDC said.

But Buaben Asamoa, the Director of Communications of the NPP, insisted that "the NDC is wrong on the matter, it is the height of irresponsibility for the NDC to seek to undermine the constitutional office and mandate of the Auditor General by bringing in their usual NDC-NPP politics.

"They have consistently succeeded in undermining national institutions and national agenda with their NDC-NPP agenda, the NDC must stay away from the ensuing matter.