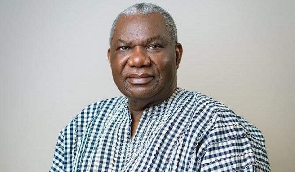 Flagbearer hopeful of the New Patriotic Party, Boakye Agyarko has shot down attempts to claim a succession practice for the party's presidential candidate selection.
According to Agyarko, a founding member of the party, the NPP as far as he was concerned evolved from the Dnquah-Busia Memorial Club and not any Danquah-Busia-Dombo tradition as is being claimed by some persons.

"People who do not know and understand our tradition are the ones who are bent on pushing that agenda, that, there is this man who is part of the contest [flag bearer] so it is his time.

"If we start like that, dignifying people then we are becoming like the CPP. It is not about being heroic. Yes, we treasure our heroes but look at the confusion it is breeding," he is quoted to have said in a report by Graphic.com.gh.

Ahead of the NPP's flagbearer contest, some factions have advanced that the history of the party created a convention around a tradition, the Danquah-Busia-Dombo tradition which rotates the party's presidential nod.

According to the proponents, the Danquah and Busia factions of the party have had their turns in leading the party making the Dombo faction next in line to lead.

But reacting to this, Mr Agyarko questioned that basis of the so-called agreement.
"Who was part of that agreement. There was nothing like that and all of a sudden this has been fabricated and is being made part of our history", Mr Agyarko said.

"It has never been Danquah-Busia-Dombo... So from September 1956 when we became UP to February 23, 1991, when Danquah-Busia Memorial Club was launched we called ourselves the UP tradition nothing else," Mr Agyarko added.

The NPP is expected to announce the date for its upcoming presidential and parliamentary elections.

Ahead of the announcement, several stalwarts of the party including Kennedy Ohene Agyapong, Kwabena Agyei Agyapong, Joe Ghartey, Dr Afriyie Akoto and Boakye Agyarko have announced their bids.

Vice President Mahamudu Bawumia who is yet to officially announce his bid is also tipped to join the race along with former trade minister, Alan Kyerematen.

GA/SARA