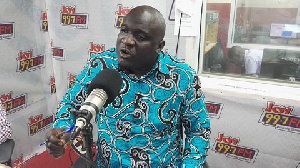 Deputy Minister of Roads and Highways, Anthony Abayifa Karbo has observed that the party is in a more difficult situation than in the past following its electoral victory in the Upper West Region.
The New Patriotic Party (NPP) currently holds five out of ten seats in the region and therefore said this puts the party in a more difficult situation but said nonetheless, it must work towards protecting the fragile victory.

"Let's not deceive ourselves into believing that the five seats we have in the Upper West Region has sent shivers down the opponents' spines. We are even in a much difficult situation because we are now going to think of how we are going to think about how protect the fragile victory. We persuaded our brothers to abandon a northern president and follow an Akan.

Our brothers yielded to our plea and across the three northern regions, we surprised our own brother. So if we are here today, let us rededicate ourselves to the fight ahead", he said while addressing the party's Regional Delegates Conference in Wa.
According to the Lawra Constituency lawmaker, it is better to be government than be whining in opposition just like former President Kufuor said "it is better to be a messenger in ruling party than a General Secretary in opposition"

He therefore appealed to the rank and file of the party to work towards achieving the vision of the party by working assiduously to liberate the country from the havoc wreaked on the Ghanaian economy by the erstwhile National Democratic Congress (NDC) .