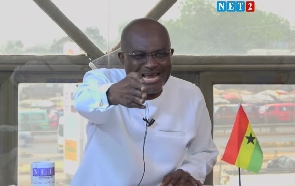 Member of Parliament for Assin Central, Kennedy Agyapong has lamented the spate of corruption between the two major political parties, stressing that he was contesting to become president to be the true change agent.
The New Patriotic Party (NPP) flagbearer hopeful weighed in on the recently published Auditor-General's report that pointed to fraud and impropriety in spending of COVID-19 funds.

"The performance of NPP during the COVID, I am not holding brief, we have made some mistakes that we all have to accept and I will be the first person to accept," he said on Metro TV's Good Evening Ghana programme earlier this week.

"But if you compare the two governments, Akufo-Addo and Mahama, Mahama is not an alternative to Ghana because the man has been fortunate to succeed Atta Mills for two years," he stated stressing that he has no justification to seek a final term in office.

When pushed by host Paul Adom-Otchere about Mahama's claim that the NPP was corrupt, Agyapong responded: "NPP is corrupt, NDC is corrupt, that is why you have Kennedy Agyapong coming in."

When he was reminded that he was an NPP man, he replied: "I am a disciplined NPP (member)."

Ghana stalls on 2022 CPI
The 2022 Corruption Perception Index released earlier this week saw Ghana scoring 43 points.

This makes it the third time the country has scored these points.

The index, which looked at perceptions about corruption in 180 countries of the world, also showed that "most countries are failing to stop corruption."

According to details on the website of transparency.org, the organisers of this index, the rankings are done looking at the levels of public sector corruption, scoring on a scale of 0 (highly corrupt) to 100 (very clean).

The country listed as the cleanest when it comes to corruption is Denmark, with a score of 90.

Seychelles is ranked the least corrupt African country (70 poits) with Botswana and Cabo Verde occupying a joint-second position, Rwanda (51 points) completes the top three slots.
Mauritius (50 points), Namibia (49 points) and Benin, Ghana, Senegal and South Africa (43 points) follow in that order.

See the full list below:



SARA