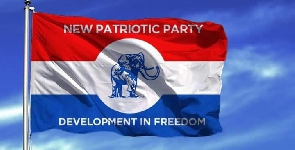 Political Scientist and sympathizer of the New Patriotic Party (NPP), Dr. Richard Amoako Baah is claiming the current party is being run by rascals who are pursuing a clandestine agenda devoid of the general interest of the larger party.
Speaking on Joy News monitored by MyNewsGh.com, Dr. Baah noted that Alan Kyeremanten resigned from the NPP which culminated in him launching a Movement for Change to contest the 2024 general election as an independent Presidential Candidate.

"The current executives are colluding, using shenanigans, lies, bribery to intimidate people. The party is not the party I joined; this is a party that has been corrupted to the core.

"The leaders including the president himself are behind it, vote buying and all the shenanigans, he is it, we know what is going on. I am one of those who campaigned hard for the president, but I saw earlier more than two years ago that this was not what I bargained for so I started speaking against the party, at least trying to get them to correct some things, they won't do it they do what they want. They steal all the money, thievery, that's what's going on" he alleged.
Dr. Richard Amoako Baah notes that rascals are now running the NPP.

"The party is in the wrong hands and you cannot correct it from within, the party must die and it's going to die. You watch it and see. It will be divided into two the Kumasi people will have the bigger power, and the other one will die"

"Then we will get rid of all the rascals running the party now. They are rascals, they all want money, MPs taking money, the president paying money to the MPs" he added.