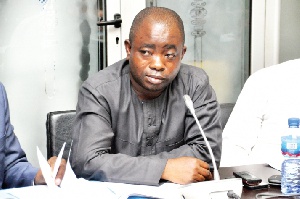 The Member of Parliament (MP) for Bodi Constituency in the Western Region, Sampson Ahi has called on the current government to beg Ghanaians for lying to them about the two former Guantanamo Bay detainees in Ghana.
"They must admit they lied about the two detainees to make the administration of former President John Dramani Mahama unpopular. Why have they refused to send them back as they promised? What has changed? The Catholic Bishops Conference and Christian Council of Ghana must also speak about it now," he stated.

He wondered what has changed that the current administration will want to keep the two ex-detainees in the country insisting that they lied to Ghanaians for political gain and must apologize to Ghanaians for peddling falsehood.

Khalid Mohammed Salih al-Dhuby and Mahmmoud Omar Mohammed Bin Atef after a Supreme Court ruling presided over by Chief Justice Sophia Akuffo by six to one (6 -1) majority decision on Thursday June 22, 2017 said the two are illegally in the country since the then government allowed them into the country without prior approval by Parliament.
They were therefore expected to either be deported or the agreement which saw them come into the country taken to parliament for ratification.

The Foreign Affairs Committee of parliament indicated that no adverse findings have been made against the two and therefore should continue their stay in Ghana in order to complete the 2-year agreement.