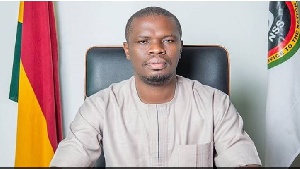 The New Patriotic Party(NPP) in the North East Region has replied to the National Democratic Congress (NDC) for accusing a man who is at the forefront of fighting for the development of his people of sabotaging the same.
It has therefore denied claims by opposition NDC in the region that Mustapha Ussif, the Executive Director of the National Service Scheme(NSS) and NPP parliamentary candidate of the Yagaba-Kubori Constituency, is sabotaging development efforts by the incumbent Member of Parliament (MP) of Yagaba-Kubori by frustrating the construction of a road in the area.

In a rejoinder signed by the NPP Regional Secretary, Lawyer Sulley Sambian, on the issue, the NPP is categorical that even though the construction company undertaking the road construction is owned by the incumbent MP for the constituency, the company has been adequately resourced to carry through its work.

"… It is never the case that Hon. Ussif has undermined, is undermining or seeks to undermine Honorable Ibrahim Rauf Tanko's efforts at bringing development to the good people of Yagaba/Kubori. Honorable Mustapha Ussif is a native of Yagaba and would be the last person to stand in the way of its development. Indeed, the enviable legacy of Hon Mustapha Ussif is subject to public knowledge when he was a member of parliament;and even after he lost the last elections to Honorable Tanko;an error the people of Yagaba cannot wait to correct come December 7 2020

We wish to place on record that the issue of non payment of contract sum to Hon Tanko is moot, since he himself admitted before the Kubori Chief and his elders that he had received payment of about 3.2 million cedis from the Road Fund. Even this partial admission of payment of GHS 3.2 million flies in the face of available evidence at the Road Fund," the press release read in parts.
The NPP has therefore urged the MP to distance himself from the untruthful claims of the NDC based on the evidence they( the NPP) has against their claims.

"We expect Hon. Tanko to do the needful by disassociating himself from the press release. We expect him to come out openly to dispute the fact of the payment of Eight Million, Two Hundred and Fifteen Thousand Six Hundred and Twenty Four Cedis and Ninety Six Pesewas (8, 215, 624.96) in which case we would confront him with the evidence of the payment.

We are very much unanimous in our focus of exposing the lies of the NDC on infrastructure in the North-East Region. Nothing will derail our efforts at trying to expose them," the release stressed.