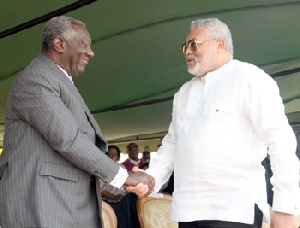 Managing Editor of the Insight newspaper, Kwesi Pratt Jnr has asked the New Patriotic Party (NPP) to accept in good faith everything former President Jerry John Rawlings has said about former President John Agyekum Kufuor.
According to him, if they (NPP) acclaimed him (ex-President Rawlings) when he was lambasting former President John Evans Atta Mills for mismanagement and corruption, they should have no problem if he has decided to now turn his guns blazing at former President Kufuor.

Ex-President Jerry Rawlings, on Monday, accused Mr Kufuor of monopolizing corruption during his tenure in office between 2001 and 2009. He added that; "the regime (Kufuor's) got so corrupt that America had to send the CIA boss…to come and warn Kufuor that 'if you don't contain your corruption, there'll be a coup d'etat and it will be very popular, and that's why America will not be able to help you".
But speaking to the issue on Tuesday's edition of 'Kokrokoo', Kwesi Pratt pointed out that "Those in NPP can also be blamed for some of these comments the former President have been making. This is because whenever he makes such statements during the term of former President John Evans Atta Mills, they highly praised him because politically it gave them advantage…"

"This kind of things must stop; they don't help in fighting corruption. Of course, there is corruption in our country, but the most important thing is how we eradicate it. We must avoid this political game…President Kufuor left office five years now, and if indeed his government was corrupt what have they (NDC) done about it for the past five years? We have all said that this kind of equalization should stop. If you have evidence of corruption take it to court and stop the accusations...," he admonished.