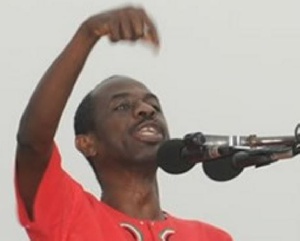 Innocent Dr Mahamudu Bawumia is being used by the main opposition New Patriotic Party (NPP) and would soon be dumped just as was done to late Vice President Aliu Mahama, the General Secretary of the governing National Democratic Congress (NDC), Mr Johnson Asiedu Nketia, has said.
According to him, people of northern extraction, including the late vice president and Dr Bawumia, are seen as second-class citizens by the NPP and are only used for a purpose and then dumped.

Speaking in the Upper East Region on Saturday 15 October, at the campaign launch of Tempane MP David Adakudugu, who is also the NDC's parliamentary nominee for the 7 December 2016 elections, Mr Asiedu Nketia said as a result of the NPP's disregard for northerners, no northern member of the party who qualified to be president has ever been given the opportunity to run for the highest office of the land.

Citing late vice president Alhaji Aliu Mahama to make a point, Mr Asiedu Nkeita, popularly known as General Mosquito, said the NPP sidelined the late northern politician who partnered former President John Kufuor, when the time came to look for Mr Kufuor's successor, after having served two consecutive terms in office. Accrording to him, the same fate awaits the party's current vice-presidential nominee, Dr Mahamudu Bawumia, also a northerner, who, in Mr Asiedu Nketia's view, is an "innocent northerner" being "misused" as a "Trojan horse" by the party and would be dumped eventually.

"Bawumia is not a bad person but he is in bad company. The NPP are not truthful to certain classes of people. They use people for their own benefits. And when it comes to a time to recognise the importance of the same people they have used, they ignore them. The NPP picked Aliu Mahama as a running mate to create an impression that they also respected northerners. When Kufuor finished his term and Aliu Mahama, who automatically should have succeeded Kufuor, wanted to become president, he was strongly opposed, he was contested, and he was booted out," Mr Asiedu Nketia recounted.

"Again, Bawumia is being used today to get votes from the north as Aliu Mahama was used. But let it come to a time Bawumia may want to take over the NPP's flag bearership, they will not allow him. The NPP, by their tradition, are very selective. They classify people into two groups. They believe we have first-class citizens and second-class citizens. The NPP consider northerners as second-class people. There is no way they will incorporate northerners properly into their fold except when they want to use those from the north for a purpose."
Contrasting that to the NDC, Mr Asiedu said: "Every Ghanaian citizen is a Ghanaian citizen, irrespective of where you are born. And that is what NDC stands for. We stand for equality. We stand for equality of development."

"We stand for balanced development in the country. That is why, if you are in NDC, you know why you are in NDC. You are not in NDC because your brother, who is John Mahama, is leading NDC. Indeed, President Rawlings won more votes in the north here than President Mahama. It is about the parties and their beliefs. And we are saying that we believe in the equality of Ghanaians wherever they choose to stay. They are free to register; they are free to cast their ballots; and they are free to do whatever they want to do irrespective of where they are staying.

"Our colleagues on the other side believe that we have first-class citizens and second-class citizens. That is why our northern brothers in the south don't feel comfortable joining NPP. So, if Bawumia is allowing himself to be used as a Trojan horse, don't let them deceive you. He alone cannot change the policies of the NPP. They will continue to treat some people as first-class citizens and others as second-class citizens. When it comes to development, they will continue thinking that some places are more deserving of development than the other places. When you are extending electricity to other places, they think it is a waste of resources. When you are building more secondary schools in the north, they believe it is a waste of resources. We don't believe like that.

"We [the NDC] believe that Ghana is one country and everybody can enjoy their rights fully wherever they choose to live. That is why we have opened an international airport in Tamale to balance the development gap. That is why we are opening universities in the north; that is why we are building more secondary schools in the north; that is why we are extending electricity to all places in the north, so that wherever you stay, you can enjoy the same facilities as a Ghanaian."