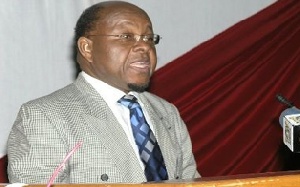 Former Second Deputy Speaker of Parliament, Prof. Aaron Mike Oquaye, says despite the internal bickering in the New Patriotic Party (NPP), it's still the best political party that has positioned itself towards winning the 2016 general elections.
Nonetheless, he said the Danquah-Busia-Dombo tradition will weather the storm and come out more united than ever in order to regain the confidence of the people.

"As we have big parties and democracy deepens with multiplicity of ideas, there will be some challenges here and there. But we will surely come over those challenges. Those are little issues as against our bigger ideals. As the challenges are dealt with, our higher ideals will prevail," the former Ambassador to India told Kasapafmonline.com in an interview Tuesday.
He said if one analysis the challenges confronting the economy in relation to the other capacity of all the political parties, especially, the ruling National Democratic Congress (NDC) in addressing them, the elephant family stands tall.

"The track record of the party is there for everyone to see. In terms human rights, our flagbearer, Nana Akufo-Addo has done so much to the extent that he led the fight to repeal the criminal law against journalists. In terms of alleviating poverty and social intervention programs, the NPP has no match."