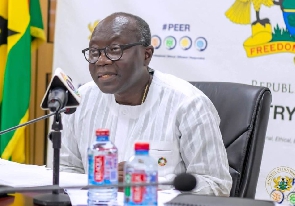 There have been some shocking revelations following an audit of COVID-19 expenditures by the Auditor General.
An audit report on the Government of Ghana's COVID-19 expenditure has shown that nearly 50 percent of the money the state mobilised to mitigate the impact of the COVID-19 pandemic in the country was used for budget support and not for issues related to the pandemic.

A portion of the report, which covers the period of March 2020 to June 2022, revealed that the Ministry of Health entered into a 25-year finance lease agreement in 2020 at a total lease value of GHC 15,265,000 for a building to be used as a holding and isolation centre in Adaklu in the Volta Region.

Another portion of the Auditor General's report said the management of the Information Ministry and its support staff, who are not health workers, paid themselves an amount of GHC 151,500 as risk allowance for going to work in the wake of COVID-19.

The Auditor General believes these monies need to be refunded by the management and staff of the Information Ministry, who were beneficiaries.

The report, which was prepared by the Auditor General Department, indicated that the government raised nearly GHC 22 billion, as of June 2022, to fight COVID-19 in Ghana through the Contingency Fund, the World Bank Group, the International Monetary Fund (IMF), the African Development Bank (AfDB), and the European Union (EU).

However, out of the total amount raised to fight COVID-19, only about GHC 12 billion (a little over 50 percent of the total funds raised) was used for activities geared toward fighting the spread of the virus and its impact in Ghana.
Following this development, Ghanaians have been reacting on social media with the hash tag NPPGrandCovidTheft which is topping trends.

Many have criticised government for looting COVID-19 funds

"Bawumia and his NPP supervised the payment of GHC5,000,000.00 to Dredge Masters Limited for the removal of plastic waste and other foreign materials/debris from storm drains in Accra without certificate of work completed. #NPPGrandCovidTheft," a user tweeted

"Put all of these together, and it's not even up to 10% the damage you have done to us with Covid 19 alone" another user added

Here are some of the reaction


More than GHc605,000 of Covid-19 funds paid to chiefs using Covid funds unaccounted for.

Don't forget 2020 was election year,and we saw some chiefs campaigning for nana Addo#NPPGrandCovidTheft pic.twitter.com/3gRdcqgkKc

— Kwaku Yirenkyi (@KwakuYirenkyi21) January 23, 2023
They claim to be a government that cares but do the opposite. He should resign with immediate effect. #NPPGrandCovidTheft pic.twitter.com/JOxPTIWFAm

— DA GREAT (@kcalb_rats) January 23, 2023
Staff from the Ministry of Information paid a total of GH 151,500.00 to themselves as COVID-19 risk allowance for reporting to work during the lockdown period despite the aforesaid Presidential directions and without Office of Chief of Staff approval. #NPPGrandCovidTheft

— MrOpare (@mista_opare) January 23, 2023
The Ministry of Health, without the approval of the Central Tender Review Committee, increased the cost of five contracts with total contract sum of GH¢24,256,500.00 by GH¢4,017,000.00 through variation orders. #NPPGrandCovidTheft

— Samuel Abokyi (@SamuelAbokyi1) January 23, 2023
At the Ministry of Information, allowances totalling GH¢811,800.00 were paid without adequate supporting documents. #NPPGrandCovidTheft pic.twitter.com/bLk8wWkV7z

— Kwaku ???????????? (@kwakurafiki2) January 22, 2023
Agyeman Manu claimed "he did not think properly" when signing the agreement to buy vaccines from the Sheikh at $19 per dose instead of $10 per dose from manufacturers. Now it has been established that it was #NPPGrandCovidTheft pic.twitter.com/Xi45pnEFzN

— The Second Coming Of JM (@MotiaNframa) January 23, 2023
Kojo Oppong Nkrumah, a former host of Joy FM's Super Morning Show which fosters accountability supervised this:

Auditor General reveals that, at the Ministry of Information, allowances totaling GH¢811,800.00 were paid without adequate supporting documents.#NPPGrandCOVIDTheft pic.twitter.com/kzkNbpOjrG

— Francesco???????? (@FrancisAbanga1) January 23, 2023
Mood at the flagstaff house when they realized they could mismanage, steal and blame it on Covid-19 #NPPGrandCovidTheft pic.twitter.com/CvOrZ267q3

— P.K Eduful (@alfie_360) January 23, 2023
Nana Addo and his ministers after looting the the COVID-19 monies will come and stand in front of our TVs saying fellow Ghanaians. This one pass scamming oo. Na wizardry and witchcraft this???? We changed John Mahama for these crooks?

Auditor General #NPPGrandCovidTheft#WKHKYD pic.twitter.com/ttCBDcIsS2

— Genuine???????????? (@Janicegenuine) January 23, 2023
Nana Addo and his ministers after looting the the COVID-19 monies will come and stand in front of our TVs saying fellow Ghanaians. This one pass scamming oo. Na wizardry and witchcraft this???? We changed John Mahama for these crooks?

Auditor General #NPPGrandCovidTheft#WKHKYD pic.twitter.com/ttCBDcIsS2

— Genuine???????????? (@Janicegenuine) January 23, 2023
The Government of Ghana on 18 November 2020 received €84,123,579.54 (GH¢569,617,581.78) from the European Union Commission to support the 2020 budget. #NPPGrandCovidTheft

— Kwaku ???????????? (@kwakurafiki2) January 23, 2023
Honestly, I have never seen super incompetent and corrupt pair of individuals grouped together like Akufo-Addo and Bawumia before. Herrrrr#NPPGrandCovidTheft pic.twitter.com/3LC0OJ2H8x

— Genuine???????????? (@Janicegenuine) January 23, 2023
NYA/SEA