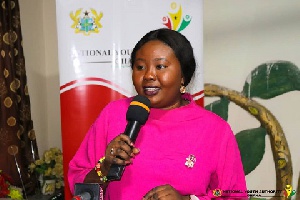 Tue, 4 Dec 2018 Source: National Youth Authority
The National Youth Authority has began regional consultations across the entire nation to elicit inputs from youth groups and key identifiable stakeholders towards the review of the National Youth Policy.
The policy which was launched in 2010 under the theme "Towards an Empowered Youth, impacting positively on development" has 19 priority areas ranging from leadership through good governance to democracy, all of which remain very vital to the youth development agenda.

Addressing participants at the Upper West Regional session that took place at Wa on Monday, 3rd December, 2018, Ms. Francisca Oteng (MP), Board Chair of the NYA was delighted to be a part of such an important process as reviewing the youth policy document to bring it up to speed with current trends in youth development work.

She commended the present leadership of the Authority led by Mr. Emmanuel Asigri for their unfettered dedication to the development of the Ghanaian youth, particularly for their strong resolve to involve the key custodians of the Authority's interventions—the youth to ensure a sense of ownership.

She recalled His Excellency the President's pledge to always get close to the people to assess the realities confronting them and did that is what informed their presence at the forum. She thanked the participants for making the time to be there considering the time of the year that the exercise is being undertaken and assured them that their efforts won't be in vain. She encouraged them to make meaningful submissions in a bid to make the revised policy a viable one.

In a speech read on his behalf by the Upper West Regional Coordinating Director, Alhaji Abdulai Abubarkar, the Regional Minister, Hon. Sulemana Alhassan said the youth play a very critical role in the socio-economic development of any nation hence matters affecting them must be taken very seriously.
He tasked stakeholders to remain committed to support the implementation of all emergent issues during the consultations since he believed the expected benefits would be enormous.

He pledged government's commitment towards the positive development of the youth hence the importance for government's policies and programs to be guided by a well thought out, well informed, well-formulated policy document.

"It is my expectation that as the ultimate beneficiaries of the policy, the youth will be challenged enough to derive maximum gains from the policy when it is reviewed. This will justify their deserved and rightful inclusion in national development and their full empowerment" the Hon. Minister noted.

Naa Your. O. D Salsa, paramount chief of Gali Traditional Area was chairman for the occasion, also in attendance were MMDCEs and some traditional leaders as well as representation from diverse political parties.

The consultations is expected to end in the Greater Accra Region on the 13th of December, 2018.
Source: National Youth Authority