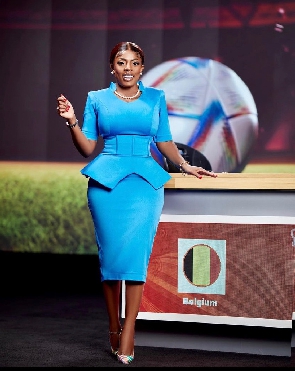 Veteran media personality, Nana Aba Anamoah has hit back at an American woman believed to be a member of the Latter-Day Saint after the latter described Ghana as a place of filth and a poverty-stricken country.
In a viral video, the American, identified as Jessie Clark Funk, while talking about the humanitarian activities of the Latter Day Saint worldwide, revealed how her experience in Ghana gave her the impression that Ghanaians, who she described as poverty-stricken, hungry and living in filth would prefer the church donates its resources to their welfare than to build magnificent temple of worship.

Reacting to the comments of Clark Funk on her official Instagram page, the General Manager of EIB network cautioned her against pushing a false narrative of Ghana for her parochial interests and urged her to quit pushing the impression that Ghanaians are against the Church of Latter Day Saint.

She wrote, "Here you are, @jessieclarkfunk. I knew I'd find you. Those lies you spewed about Ghana made you look less intelligent. That we hate the Mormons? Madam, are you okay? No one resents your temple. The area your temple (the church of Latter-Day Saints) stands in Accra (Ridge) is one of the richest, most peaceful and prestine neighborhoods. "

"I'll forgive your imbecilic comments about the poverty stricken and hungry people you claim you saw around that temple and assume you just wanted to appear relevant. You looked pathetic instead."

Nana Aba also took time to educate her on the realities of living in Ghana.
"Indeed, we do have poor people here just as your country does too. There are so many Americans who call cars, shacks, tents and boxes their homes. It's 2023. Grow up. It's time to unlearn the truckload of lies you've been fed by some of the painfully lazy media platforms in your country about Africa."

She added, " I'm willing to help you speak sensibly next time about a country that's been kind to your ilk, church and any other organisation from your country. To be honest, they'd be shocked to the marrow to hear you speak this way about Ghanaians. You lot need to stop making Africa a victim of your incredibly dumb agenda," parts of her post on Instagram read.

Here is Jessie Clark Funk's video


EAN/WA