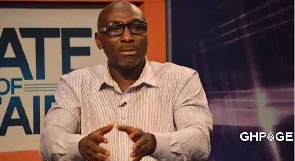 A legal team member of the National Democratic Congress (NDC), Abraham Amaliba, has called out President Nana Addo Dankwa Akufo-Addo, questioning his haste in deciding to return to the international market a few days after rolling in on an IMF programme.
His comments were on the back of the President's pronouncement in Qatar stating that the Extended Credit Facility (ECF) from the IMF will be used to fix the economy so it can return to the international market more credit facilities to support some projects it has started.

This, according to Amaliba, raises questions on why the president is in a hurry to return for loans just days after rolling in the IMF programme.

"Recently parliament was recalled to approve loans. And it is your borrowing that has led us to this. The president two days ago, said he was so eager for us to back to the international market, what for? Is it because your cousin, the finance minister gets 10% from the borrowing and that is how come you quickly go back there? What is the problem? You are in an IMF program, the program has not even rolled up to three months and you are already salivating to go to the international market," he said.

Lawyer Amaliba further added to say that President Nana Addo is not a leader who can be trusted with what he says.

"So all in all, a president who talks but does not walk the talk. A president who does not believe in what he says and a president who can't be trusted when he says what he says," he added.
He made these comments while on TV3's New Day which was monitored by GhanaWeb.



Share your news stories and ideas with GhanaWeb




To advertise with GhanaWeb


You can also watch the latest episode of People & Places:





NW/OGB