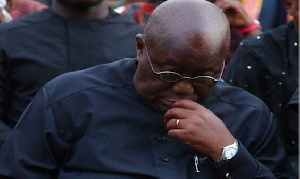 President Nana Addo Dankwa Akuffo Addo and other fans and admirers, on social media, have paid tribute and condolence to the grieving family of the late dancehall artiste Ebony Reigns.
Nana Addo tweeted on his official Twitter account at 0214 hrs today, "Saddened by the news of the death of the young, but extremely talented female artiste, Priscilla Opoku-Kwarteng, aka Ebony Reigns."

He again added on the same page, "By all accounts, she had a very promising music career. My deepest condolences to her family, and to the families of the two others who died in the tragic accident. #RIPEbony."

African music promoters and organisers of the prestigious MTV Awards, MTV Base Africa also tweeted at 1:14am, "#RIPEbony-Your music will forever live on and continue to touch lives @ebony_reigns."

Satellite TV giants, DSTVGhana wrote on the official Twitter page of Ebony, "We are saddened by the sudden death of rising dancehall artiste, Ebony Reigns, in an accident which occurred late Thursday evening on the Sunyani-Kumasi road. Ebony would have turned 21 on 16th February. Our sincere condolence to her family and fans."

Ghanaian Highlife and Hip-life artiste Kofi Kinaata joined the course with, "R.I.P @Ebony_Reigns -My heart goes out to her family. #LastShow."
Abeiku Santana, a television presenter, could not hold in his shock.

He wrote on his Facebook Page, "We never dreamed your death was near. But only those who love can tell the pain of parting without farewell. God give us strength to face this blow. No one can never imagine what it means losing you."

"To hear your voice, to see your smile, to sit, and talk with you awhile, to be together in the same old, would be our dearest wish today, but loving memories never die. As years roll on and days go by, in our hearts a memory is kept of the one we love and will never forget.

Farewell Sweet Ebony", he added "To those who you touched and inspired you'll continue to live in our hearts", wrote Lydia Forson, an actress on her Facebook page.

"So young, so pretty, so talented. I'm really having a hard time believing that this girl is gone, she had so much potential #EbonyReigns", one Nicole wrote on Ebony's Twitter page.
Ohemaa Cocoa wrote on Facebook, "R.I.P!!! My heart is truly broken. #90sbadgyal #Ebonyreigns."

Ebony Reigns, Ghanaian dancehall and afro-pop artiste on Thursday night met her unfortunate demise in a car accident on the highway connecting Suynani to Kumasi.

Ebony's Jeep, according to an eye witness report, was attempting to overtake a trailer in front of it and could not because of a heap of sand apparently on the side of the road and crashed into the side of an incoming VVIP bus heading towards Suynani from Kumasi.

Priscilla Opoku-Kwarteng, stage named Ebony in the Ghanaian music industry, was reportedly on her way to Accra from Sunyani after visiting her mom, who flew to Ghana from the United Kingdom somewhere last week.

The 'hustle' hit-maker known among her thousands of fans as 'the 90's bad girl' was with her personal security, her friend one Franklin Nkansah and of course her driver when the accident occurred.
The driver is said to be the only survivor from the Jeep after the accident and is currently receiving treatment at the Bechem government hospital. The news of Ebony's demise broke early Friday and has since left a sour taste in the mouth of Ghanaians.