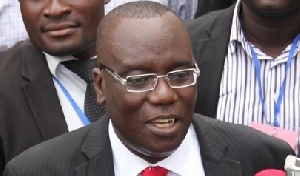 As pressure mounts on the incoming Akufo-Addo-led government, a former General Secretary of the New Patriotic Party (NPP), is disabusing the minds of Ghanaians who are expecting Akufo-Addo to fulfill the campaign promises within days.
Kojo Owusu Afriyie popularly known as Sir John, concedes that although the high expectation of the new administration is understandable, the president-elect never said he will deliver his promises within the first hundred days in office.

The Coalition of Concerned Teachers has for instance given the NPP administration a deadline of restoring the Teacher Training Allowance within the first hundred days in office.

But, speaking to host of 3FM's Sunrise Morning Show, Sir John asked for more time for the yet to be sworn in government. He noted that the NPP administration will be working with a budget prepared by the outgoing administration within the first three months in office.

"I've have listened to Nana Akufo-Addo carefully; I've followed him all over the country and nowhere did I hear him say he'd accomplish anything within his first hundred days in office.

"But the point is this, unlike the NDC that talked about first hundred days, we did not. But let's wait patiently and see what will appear in the first budget of the NPP.
This is because when you talk about the first hundred days, a budget would have been prepared by the previous administration and that would work up till March; and that's what you'll be operating with.

"However if you want to be mischievous, you'll start counting from January 7 when he's sworn in. So the real budget will come after March 2017." He was also hopeful Nana Akufo-Addo will select the most qualified persons for various ministerial positions.

"It's been only a week since Nana Akufo-Addo won the elections; and he's still quietly considering several options but I believe he'll will get it right because he has always gotten it right.

So I trust he'll get it right. "Let's be patient because it's too early in the day. But come January 7 when he is sworn in, he'll come out with all his ministers. Unlike the NDC which took several months in 2009 to fill vacancies, Akufo-Addo will not do that."