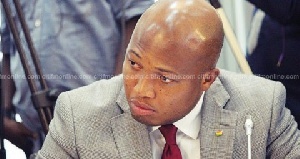 North Tongu Member of Parliament, Samuel Okudzeto Ablakwa has described as insulting, President Akufo-Addo's address to the nation on the controversial Ghana-US military deal.
The president who expressed his outrage at the opposition NDC's recent outburst on the deal described it as a kind of "cynical manipulation by reckless self-seekers", who will be exposed and condemned by Ghanaians within the shortest possible time.

President Akufo-Addo also went further to state that Ghana has not offered a military base, and will not offer a military base to the United States. However, in consideration of challenges to maintaining peace, his government deems it prudent to continue the co-operation agreement already in existence.

"Everything I have done, since assuming the great honour and privilege of serving you as President of the Republic, demonstrates that I remain focused on building a self-reliant, free, prosperous Ghana, which will be able to make her own unique contribution to the growth and development of Africa and the world.

Let us concentrate and spend our energies on working together to achieve that goal of a happy and prosperous Ghana, and reject the hypocrisy of the naysayers who led our country into bankruptcy and the worse economic record of modern Ghanaian history."


But commenting on the address by the President on his twitter handle, Mr. Ablakwa said the response by President Akufo-Addo was regrettable.

He described his utterance as condescending and insulting to genuine concerns raised by Ghanaians all over the country.

"A terrible sad night indeed. This is not how a president talks down to his own people. The intolerant, condescending and insulting response to genuine concerns of Ghanaians from all section of society is very regrettable," he tweeted.


A terribly sad night indeed. This is not how a President talks down to his own people. The intolerant, condescending and insulting response to genuine concerns of Ghanaians from all sections of society is very regrettable.

— Sam Okudzeto Ablakwa (@S_OkudzetoAblak) April 5, 2018