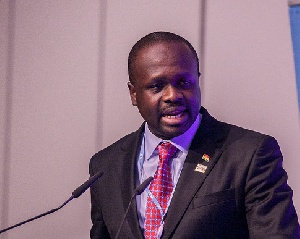 The Minister of Communications has asked the presidential candidate for the New Patriotic Party (NPP), Nana Addo Dankwa Akufo-Addo to also promise University and tertiary students allowances if he is desperate to restore allowances.
In an interview with Ekourba Gyasi on Atinka AM Drive Wednesday, Dr. Omane Boamah mentioned that there are other students in other institutions such as the universities and polytechnics so Nana Addo Dankwa and the NPP can also promise them and stop using Mahama's allowance restoration as a bait.

He noted that if the NPP party knows they can do better than the NDC they should promise the University students and Tertiary students allowances. He mentioned that in 2000 as part of the NPP's campaign, they promised to create more jobs, transform chop bars to restaurants and convert slums to high-rank buildings which they could not fulfill.
He advised the trainee students not to pay attention to the NPP because they cannot fulfill anything they will promise them.

Asked whether the allowance that has been restored is that which was scrapped or the GHC150 the president promised the students, Dr. Omane Boamah opined that it is only a transition to the student loan scheme.