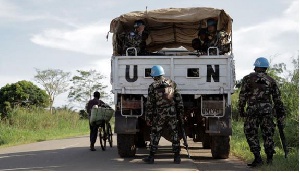 President Nana Akufo-Addo did not flout any law in deploying over 200 Ghanaian soldiers as part of an ECOWAS contingent to resolve the political crisis in The Gambia, Dean of the Faculty of Law at the Central University College, Prof Kenneth Agyeman Attafuah, has suggested.
Member of Parliament (MP) for Adaklu, Kwame Governs Agbodza said the decision to send Ghanaian soldiers to Gambia shouldn't have been decided by President Akufo-Addo but by parliament instead.

This followed President Yahya Jammeh's refusal to step down after he lost the 1 December election citing electoral irregularities as his reason for holding on to power.

Despite the situation in the tiny West African country, Mr Agbodza maintains that Ghana's legislators should have deliberated on the matter before committing soldiers to that cause.

He further explained: "If there was an aggression against Ghana, obviously the president [could] take the lead as the commander-in-chief and make a decision, but this is not a humanitarian crisis in Gambia."

Mr Agbodza added: "It is a pre-planned aggression against another country and I think that parliament must give approval."
But criminologist and conflict resolution expert Prof Attafuah maintained that no law was contravened.

"I want to emphasise that there is no legal basis for the contention that President Akufo-Addo erred in committing troops," Prof Attafuah, who was a guest on Newsfile, a current affairs programme on Multi TV on Saturday January 21, indicated.

The former National Democratic Congress (NDC) legislator for North Dayi, George Loh, who was a guest on the same programme, was of the view that the security of Ghanaians in Ghana should have been prioritized in view of some 44 Ghanaians who were killed in The Gambia in 2005.

"I was really worried because for the second time I thought that the president had the opportunity to prove that where The Gambia was concerned he would get it right this time," he said.

Mr Attafuah maintained that the real threat was Mr Jammeh and removing him was the solution.
"The point is that we are acting as a collective body (ECOWAS). There is leadership at various levels, there is commitment from different countries.

The president acted timeously by committing troops within a broader context to help dislodge this embarrassment which was also creating insecurity within the country and the region.

You could solve that problem by removing this person in that country… No Ghanaian has lost a limb, we should thank God," he said.