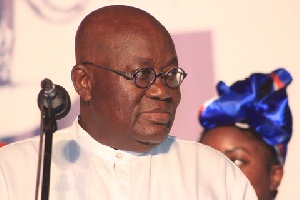 The Supreme Paramountcy of the Ga State, His Royal Majesty King (Dr.) Tackie Teiko Tsuru II has praised the people of Ghana for their very matured conduct in the just ended 7th December 2016 Elections.
In a statement released, the Ga Mantse hailed Ghanaians for proving to the world our preparedness to embrace Democracy.

His Royal Majesty, King (Dr.) Tackie Teiko Tsuru II noted that the concession by the Presidential Contestants ahead of the declaration by the Electoral Commission (EC) of Nana Addo Dankwa Akufo Addo's victory, indicates that Ghanaians wanted a change and their decision has been respected by all and the International Community.

The Ga Mantse specifically commended the out-going President of Ghana, His Excellency John Dramani Mahama for his stewardship noting that Ghana has chalked a great deal of respect during his time in office and all his efforts to ensure the country's development to this point will not go unnoticed.

Praying for the President-Elect Nana Addo Dankwa Akufo Addo, His Royal Majesty, King Tackie Teiko Tsuru II wished Ghana to see peace, development, economic stability, good health and prosperity.

The Ga Mantse further reminded the incoming president that the overwhelming voters chose him to lead Ghana because they believe "Nana Addo has the winning formula to turn and positively direct the course of our dear country Ghana".
His Royal Majesty, King (Dr.) Tackie Teiko Tsuru II also called for unity among Ghanaians.

A statement from the Office of the HRM King (Dr.) Tackie Teiko Tsuru II, signed by Prince Nii Adu Tackie read:

As Nana Addo Dankwa Akufo Addo prepares for his seat as President of the Republic of Ghana and will be officially sworn in as such come January 7, 2017 as stipulated by the Constitution of the Republic of Ghana, he will need all in his power to unite the fronts of our political world to serve our national interest.

The Ga Mantse offers his support to all and sundry who desire to see our Motherland Ghana continue to prosper likewise the Ga State. King (Dr.) Tackie Teiko Tsuru II prayed in the local Ga dialect wishing all to enjoy a prosperous New Year which will come in its wake with good tidings of Blessing, Good Life, Prosperity and Development.

Tswa, Tswa, Tswa ni Omanye juru abla, wor