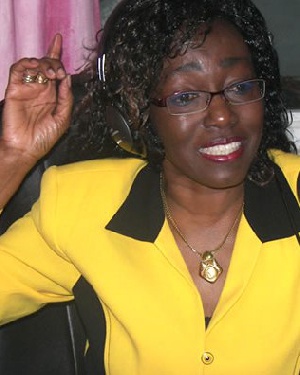 Fri, 18 May 2007 Source: GNA
... move is an NPP diversionary tactic
Kumasi, May 18, GNA - Nana Konadu Agyemang-Rawlings, former First Lady, has appealed to Ghanaians to be vigilant and guard against what she described as attempts by government to shift the attention of the masses from the harsh economic situation in the country by re-denominating the cedi.

She said re-denomination of the cedi did not amount to stability of the economy, alleging that the move was one of the diversionary tactics by the New Patriotic Party (NPP) government to cover up its failure to restructure the nation's economy.


Nana Konadu cited the energy crisis, mass industrial actions by workers, high incidence of armed robberies and guinea-worm cases in the country as some of the failures of the NPP since it was given the mandate some seven years ago.


She was speaking at the Ashanti Regional Delegates' Conference of the 31st December Women's Movement (DWM) in Kumasi on Wednesday. Nana Konadu, who is the National President of the Movement, pointed out that since the government had failed to deliver on its campaign promises, the citizenry should muster courage and vote the NPP out of office in the 2008 elections.


She said it was regrettable that in spite of the numerous development projects undertaken by the Provisional National Defence Council (PNDC) and the National Democratic Congress (NDC) to improve the living conditions of Ghanaians during the past years, the "NPP continues to discredit the immediate past government for doing virtually nothing".

The former First Lady said contrary to these assertions and criticisms however, the PNDC/NDC were on record to have chalked a major breakthrough in restructuring the nation's economy, citing the economic recovery programme initiated by the PNDC in the early part of the 1980s.


"It is worth mentioning that this recovery programme received commendation from the World Bank as the initiative transformed the growth rate of Ghana's economy from below zero to about 5.5 per cent", she noted.


Nana Konadu challenged well-meaning members of the DWM to be proactive and work hard to improve upon the status of women since they remained one of the vulnerable groups in the society. The former First Lady said the Movement believed in democratic principles and as such entreated members to be tolerant of divergent views and also strive to foster unity among the Movement and other women's groups in the country.


Mr Daniel Ohene Agyekum, Ashanti Regional Chairman of the NDC, noted that despite the numerous challenges the party was facing, it was optimistic to chalking a landslide victory in the 2008 elections. Mrs Evelyn Konadu was elected new Regional Chairperson of the Movement while Mrs Grace Aboagye-Yeboah and Madam Veronica Antwi-Agyei were elected as Organizer and Secretary respectively.

Source: GNA