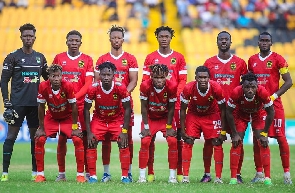 First Vice Chairman of Asante Kotoko supporters' group, Nana Kwame Dankwah has justified the decision of the club to sign players from lower-tier sides.
Since his return to the Ghanaian giants as head coach, Prosper Narteh Ogum has embarked on a rebuilding campaign and has raided the lower divisions for talents like Dwamena Kyei from WAFA, Peter Amidu Acquah from PAC Academy, Bernbard Somuah from Afigya Liberty and Samuel Somuah from Tano Bofoakwa.

Some supporters of the club have expressed doubts on whether these players can make an instant impact in the upcoming season but Dankwah believes this decision is good investment for the club as they can cash in on the sale of these players in future.

He said: "It is the divisional players we use for business. In football the player's resale value is what matters. Aged players can help you but when you want to transfer them how much can you make. And football is a big business today.
"So, you just don't bring in any players but I am confident the boys who have come in have individual brilliance but to play as a team, they are getting it gradually.

"Despite bringing in big players in the past, Kotoko also introduced some young ones."