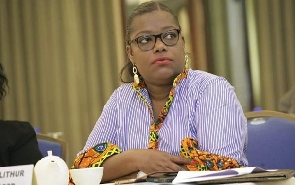 A former Gender Minister under the erstwhile Mahama-led administration, Nana Oye Bampoe Addo, has filed her nomination to contest the upcoming opposition National Democratic Congress's (NDC) primaries.
The former minister, who is also a Human rights lawyer, filed her nomination to contest in the primaries for the Adentan seat, on Tuesday, 21 March 2023.

Addressing the media, the former Minister, promised infrastructural development and jobs for the youth of the Adentan constituency when given the nod in the primaries and subsequently becomes MP.

According to her, as a woman, she can better understand the predicament of the people, and will make women her priority by instituting measures and projects that will aid their empowerment.

She further promised to put up a market for the Adentan constituency, similar to the Madina market.
The former Gender Minister, will be attempting to lead the NDC in the Adentan Constituency for the second time after her first attempt in 2019.

She, however, lost to the current Member of Parliament (MP), Mohammed Adamu Ramadan.

You can also watch this episode of People & Places here: