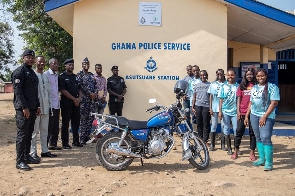 Tue, 24 Jan 2023 Source: Agro Kings Ltd
Ghana's leading premium rice producer, Agro Kings – the producers of Nana's Rice, has renovated the Asutsuare Police Station and presented a brand-new motorbike to aid mobility and security visibility within Asutsuare and its surrounding communities.
This commendable gesture forms part of the company's commitment to improving communities and the lives of people within its operational enclave.

The renovation project included structural works in the building, painting, ceiling fixtures, and the installation of fascia boards along the rooftops.

Speaking at the august presentation ceremony, the Managing Director of Agro Kings Foods, Angela Barnes, reiterated the company's commitment to advance the socio-economic agenda of communities, especially within its operational zones.

She stated that "the renovation project and donation of a motorbike by Nana's Rice, is consistent with the mission and goal of the company, which is advancing human lives."

She further expressed optimism that the renovation project and the motorbike will enable police officers to work from a well-befitting station as they provide effective surveillance and security to the people of Asutsuare, a town that has gained its reputation as the leading rice hub within the southern belt of the country.

Speaking at the event, the District Commander, Superintendent Cletus Abadamlora, who received the motorbike on behalf of the Police Service, could not hide his joy over the Station's facelift and particularly, Nana's Rice's thoughtful and commendable gesture.
He stated, ''on behalf of the police administration, we would like to thank Agro Kings for this great support and we promise to use the facility and motorbike for the services with which it was given to us. The renovated police station looks better and we look forward to delivering improved services to the public."

Nana's Rice continues to invest in several initiatives within the community. In the Last year, over 300 smallholder farmers were trained on-farm practices and protocols that achieve higher yields, quality, and sustainable agriculture practices and subsequently, further supported with farm inputs and mechanization services.

The company continues to create gainful employment and improve the livelihoods of the people in the community through its various corporate-social initiatives as well as commercial farm expansions within the area.


Source: Agro Kings Ltd