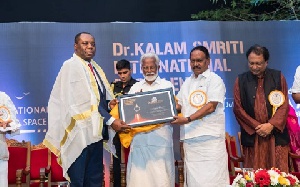 Education Minister Dr Matthew Opoku Prempeh, has received the Dr Kalam Smriti International Excellence Award on behalf of President Nana Addo Dankwa Akufo-Addo at a colourful ceremony at the Dr Smitri International Dale View Campus in Punalal, India.
The award ceremony, which was attended by various dignitaries, including Members of Parliament, philanthropists and Ministers of State, in honour of the memory of Dr Kalam Smitri, a man of great vision, a man whose passion was that India should become a sustainable economy through pragmatic, home-grown policy initiatives.

In a speech accepting the award on behalf of the president, the Education Minister expressed the president's deep appreciation of being the recipient of the award, and indicated that the President has always held a passionate and strong belief in the talents and abilities of the Ghanaian people to maximise their opportunities and bring sustainable development to the country.

He stated, "Ghana is a country blessed with abundant natural resources and amazing human capital, and with determined, selfless and committed leadership, she can once again become an important economic beacon and thereby wean itself off foreign aid."
These, he indicated, were values that the President was delighted to share with Dr. Smitri.

Dr. Prempeh further stressed the achievements government has chalked in the past eighteen months, including the rollout of the Free Senior High School policy, the One District One Factory initiative and the Planting for Food and Jobs programme, all in a bid to improve the country's human resource base and put on the path to sustainable development.

The Minister further praised India's pivotal role in inspiring sub-Saharan Africa to push for self-determination following the country's independence from British rule in 1947 and expressed the confidence that the two countries will continue to develop the warm relations they have enjoyed over the years.