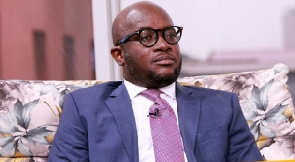 Lawyer and Member of Parliament for Sekondi, Andrew Egyapa Mercer, has said the security of nine Appeals Court Judges has been compromised in the wake of discussions on the propriety of the construction of a national cathedral.
According to him, the conservation around the construction of the controversial yet to be built national cathedral has exposed the Judges to possible attacks by criminals as the location of their homes have been made public.

The Akufo Addo led administration has sparked controversy and has come under a barrage of public criticism over the decision to build a national cathedral for the Christian faith. The move has been met with mixed reaction from the Ghanaian public.

The criticisms has intenified after it emerged that several buildings including the Scholarship Secretariat, Passport Office at Ridge and nine bungalows occupied by Appeals Court Judges are to be demolished as government is set to begin the construction of the House of Prayer.

Scores of other structures within that enclave including the Judicial Training School are also expected to be pulled down to make way for the 5000 seater state of the art cathedral which will also include a Bible Museum and a Documentation Centre.

Occupants of some of the residential facilities have begun packing out their belongings as they've been served with notices to vacate the place even as the Supreme Court hears the CPP's James Kwabena Bomfeh's application to halt the process.

Contributing to a discussion on the matter, Hon. Andrew Egyapa Mercer stated that whether the National Cathedral is eventually built at Ridge or not, the state must ensure that the Judges are relocated to ensure their safety.
"The residences of Judges are usually not made public to avoid a situation where an aggrieved person could go to their homes and harm them. But sadly, in the wake of the ongoing discussion on the national cathedral and where it should be built, we've ended up telling the whole world that nine of our Appeals Court judges live in that enclave. For me, their security has been compromised. They can't continue to still live there, relocating them is non-negotiable, they should be moved from there."

Hon. Andrew Egyapa Mercer emphasized the need for the national cathedral to be built, as though it will be a House of God, the facility could also hold other national events.