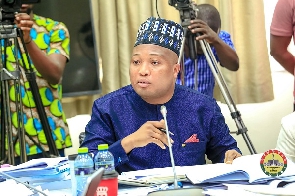 Member of Parliament for North Tongu, Samuel Okudzeto Ablakwa, has celebrated members of the clergy who he says are demanding accountability on the part of government with respect to the National Cathedral project.
In a January 10, 2023 post on his verified social media pages, the lawmaker wrote: I salute all Christian Leaders & Christian Organisations who have epitomized their teachings to us by publicly & courageously demanding accountability on President Akufo-Addo's scandalous Cathedral project.

"I am also eternally grateful to all the Men of God who call & say special prayers with me, and the many others I am yet to meet including Christians of diverse denominations who pray for us and boldly encourage the pursuit of truth and transparency.

"Please keep inspiring us, for God and Country. Truth Stands."

His post was accompanied by screenshots of website articles with respect to clergymen who are demanding accountability from government over the project.

Among the clergymen are Prophet Oduro, Rev. Owusu Bempah as well as concerns by the Christian Council and the Catholic Bishops' Conference.
President Nana Addo Dankwa Akufo-Addo recently donated GHC100,000 as part of his commitment to see to the completion of the project by the 2024 deadline.

So far, about GHC340 million of public funds has been pumped into the project with Parliament recently rejecting GHC80 million budgeted for the project in 2023.


I salute all Christian Leaders & Christian Organisations who have epitomized their teachings to us by publicly & courageously demanding accountability on President Akufo-Addo's scandalous Cathedral project.

I am also eternally grateful to all the Men of God who call & say /1 pic.twitter.com/IC7riG1D1I

— Sam Okudzeto Ablakwa (@S_OkudzetoAblak) January 10, 2023
SARA