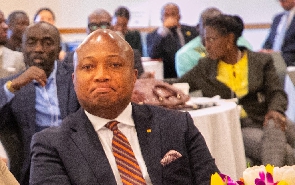 North Tongu Member of Parliament, Samuel Okudzeto Ablakwa has launched another allegation against the National Cathedral of Ghana project citing tax breaches in the United States where the project is registered as a non-profit fundraising Special Purpose Vehicle (SPV).
Ablakwa who visited the United States recently with the view to investigate the international operations of the National Cathedral has in the past week been making revelations about issues of corporate governance malpractices that he found.

They included the registration of the project in a different name with a largely different set of Trustees, the alleged use of ghost addresses as its offices and multiple registration of the SPV in a number of US states.

The secretariat has since issued two press statements addressing portions of Ablakwa's revelations whiles accusing him of distortion of facts to suit his dogged agenda against the National Cathedral project.

In the latest leg of what he calls "Episode 4 of the National Cathedral Scandals – American Edition" released on May 8 via his social media handles, he accused the secretariat of operating with lawlessness in the issue of filing tax returns in the states.

Ablakwa posed seven questions he said were begging for answers from the secretariat, they were as follows:
What are they hiding?

Without annual filings, how will we ever know how much money has been raised in the US?

Who is keeping Ghana's money?

What have the funds been used for?

Why would Dr. Opoku-Mensah peddle naked falsehoods about Ghana's filing situation?
When will they render full account to the Ghanaian people?

Who's going to compel the trio and US Consultant Cary Lee Summers to account for all the monies collected in our names?

Meanwhile, watch the latest episode of People and Places on GhanaWeb TV below:




Watch the latest episode of The Lowdown below:






SARA