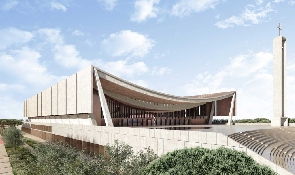 The Board of Trustees of the National Cathedral is in talks with Deloitte to conduct a normal statutory audit of the project.
This was announced by the Chairman of the Board, Apostle Prof. Opoku Onyinah in a statement on Tuesday, 24 January 2024.

It follows a demand to that effect by preachers Nicholas Duncan-Williams and Eastwood Anaba, also trustees, who want the project suspended for independent auditing to be done.

In a memo, the two ministers said: "In the spirit and cause of transparency and accountability to the Ghanaian people, the current Board of Trustees of the National Cathedral shall appoint an independent, nationally recognised accounting firm to audit all public funds contributed to and spent by the National Cathedral."

"This appointment of an auditor shall take place before the deferment of activities of the Board of Trustees," portions of the memo read.
They demanded that the "current activities advancing the construction of Ghana's National Cathedral shall be deferred until the atmospherics in Ghana are improved and the audit of the Cathedral account is done".

The Board, in its statement, said it is "already in discussions to engage Deloitte, which accepted to be the auditors when the National Cathedral was registered, to commence the normal statutory audit".

In addition, the Board said it "submitted all relevant documentation on the project to parliament in December 2022. Thus, if parliament so desires, it may set up a commission or appoint an independent auditor to review all issues concerning the award of contract, procurement, construction works and financial operations of the National Cathedral project so far".

"The Board of Trustees is also prepared to be subjected to any form of a probe by state institutions including the Commission on Human Rights and Administrative Justice (CHRAJ)".