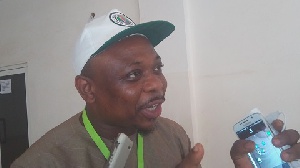 The lawmaker for Builsa North, James Agalga, has described plans by the Akufo-Addo-led Government to clear the residence of Court of Appeal justices to put up a national cathedral as a threat to the independence of the judiciary.
The former Deputy Minister for the Interior advised government to rather focus its "attention and energies" on the free education policy he said it had failed to implement to the satisfaction of Ghanaians than "undermining judicial independence, which is most unfortunate".

Mr. Agalga was speaking to newsmen Saturday on the sidelines of the regional executive elections of the main opposition National Democratic Congress (NDC) in the Upper East region.

"The circumstances under which the Akufo-Addo-led Government wants to— to borrow their own word— facilitate the construction of the National Cathedral is problematic. It is problematic in the sense that in our quest to have a national cathedral, should we dislodge the justices of our superior court of judicature? Should we dislodge them from their places of residence? I think that is most unfortunate.

"Remember, the judiciary is supposed to be independent. And when we say the judiciary is independent, it means that all the facilities at their disposal, et cetera, should not also be interfered with by the executive. So, now, if the construction of that cathedral would interfere with the place of residence of our justices, in the process, we are undermining the independence of that institution to work," he stated.

Double Track System would Worsen Teenage Pregnancies Rate— Agalga
On the Double Track system, Mr. Agalga believes it will have long term implications on the country's development.

At least 57,000 teenage pregnancies were recorded in Ghana within the first half of 2017, according to Marie Stopes International, a charity foundation into contraception and safe abortion care services.



The figures, Mr. Agalga predicts, would go through the roof with the introduction of the Double Track System by the current government at second-cycle institutions.

"The Free SHS Policy is not working. Haven't you been to the schools to see the congestion? The government's inability to release funds for the project to be run? Are you not aware about all these challenges? Why are they suddenly trying to introduce a shift system? Is it not because of the challenges that bedevilled the initial implementation of the project?


"But the shift system— they prefer to call it the double track system— is going to be even more disastrous. I am not a prophet of doom. But to say the youngsters should stay at home for 3 months, 3 solid months, for heaven's sake, they are going to indulge in all manner of vices like teenage pregnancies, et cetera, because we are saying they should stay at home for 3 months without supervision. It would become worse with the implementation of the shift system," the legislator prefigured.