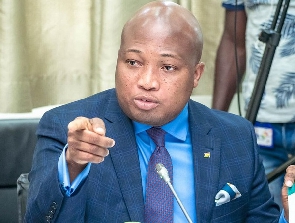 Contrary to the widely publicised information that the building of Ghana's National Cathedral will cost $400 million, the Member of Parliament for North Tongu, Samuel Okudzeto Ablakwa, has contested the figure.
According to him, the Ghanaian taxpayer could rather be paying about $1 billion for the construction of the edifice that has recently been embroiled in a lot of controversies and allegations of corruption.

"We were told by the finance minister that the project will cost $100 million, then the figure rose to $150 million. The Chairman, Opoku Onyinah later mentioned $200 million but now based on fresh documents, I have realized the project is going to cost the Ghanaian taxpayer about $1 billion.

"The same amount former president Mahama used to set up the Ghana Gas project which is earning us about $400 million a year," he is quoted by citinewsroom.com to have said.

Explaining further, the MP stated that the original cost of $400 million that has been mentioned does not include such costs as the monies the government had to incur in relocating the judges' bungalows in the areas that are currently going to house the National Cathedral.

This, he added, did not also include some $50 million needed for the relocation of the Judicial Training Institute, as well as an amount of $10 million that made up the cost of the relocation of the Passport Office of Ghana.

Samuel Okudzeto Ablakwa, who has been at the center of a lot of revelations of misconduct or alleged corruption related to the building of the national edifice, also added that one other company, Waterstone Complex, which had its offices pulled down to allow for the construction to go on, is in court.
He added that the private company has sued the government for $120 million.

By adding all these amounts, plus the modifications to the project, such as the Biblical Garden and the museum, he added, will see the original cost of the project shoot up exponentially.

While the National Cathedral project remains one of the most topical government projects that have been fought against by many currently, President Nana Addo Dankwa Akufo-Addo has reiterated his resolve to see to its completion.

Not even the current economic challenges being faced in the country have stopped him from doing so.



AE/BB